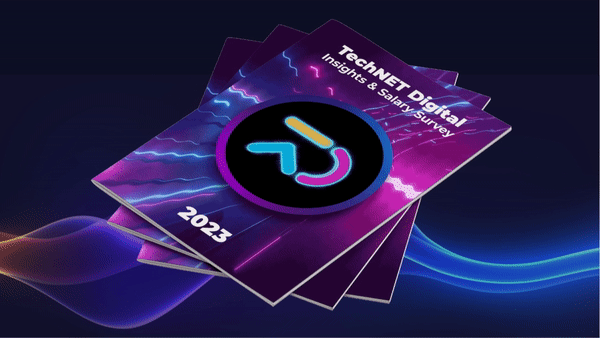 Our 2023 Digital Salary Survey – free to download!
TechNET Digital is here to provide the latest insights from the digital industry!
2023 is set to be an exciting year for the digital world and what better way to kick things off than with our annual salary survey report? Our report is important because it allows many voices to be heard. 
To get an even wider scope of the digital industry, we have been releasing follow-up questions to capture further salary and industry updates from our respondents throughout the year. This is the first time ever that we have done an updated questionnaire, meaning this edition really is our biggest report yet!
So, if you are looking for fresh digital talent or perhaps a new opportunity, this guide will help you navigate the digital recruitment world in 2023.
The go-to report for Digital Recruitment insights
Our annual salary survey report has been downloaded by thousands across the industry each year. Providing statistics covering a range of topics, you can expect to see some new information this year!
In previous editions, salaries and well-being throughout COVID-19 have taken centre stage. With so many world developments in 2022, we are covering some new angles. With the cost of living crisis, increased remote working and other factors at play, there is so much to cover. We can't wait to hear your insights!
Topics you can expect in the 2023 digital salary survey include…
Salary bench-marking

Salary changes in 2022 – 2023

The digital recruitment process and nurturing talent

Growth within the digital industry

Employee trends such as work-life balance, returning to the office and job satisfaction

Diversity & Inclusion
All you have to do is complete the form and a fresh copy of the report will be sent directly to your inbox! We will also be releasing unseen insights on our blog. Happy reading!